Posts: 0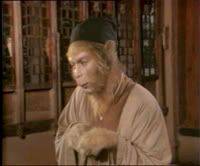 Name:
Sun Wu Kong ( 孫 悟 空 )
Viet Name:
Tôn Ngộ Không
DOB:
unknown
Birth Place:
On Ao Lai at Dong Shen Sheng Zhou
Death:
Not yet
Weapon:
Golden Rod that could shrink or grow as its owner command
Magical powers:
72 transformation with the ability use the somersault cloud to fly over long distance
Speciality:
Fighting demons
Favorite food:
PEACHES
Current Occupation:
Buddha of Victorious Battles
HISTORY:
Sun Wu Kong was born out of a rock on the mountain of Ao Lai. His mother is earth and his father is heaven. He learns to live with the monkeys nearby and becomes their leader when he crossed the waterfall on the Flower Fruit Mountain. Later, he disturbed the Heavenly body after learning the 72 magical powers and was imprisoned under a mountain by Buddha for 500 years. When he was released by Tripitaka, he went with Tripitaka to India to get the Buddhist Sutra. Wukong is very clever and mischievous. He is also stubborn, rebellious, and pretty arrogant. Along the way, he fight many demons and rescue Tripitaka from danger many many times. In the end he become "Buddha of Victorious Battles".